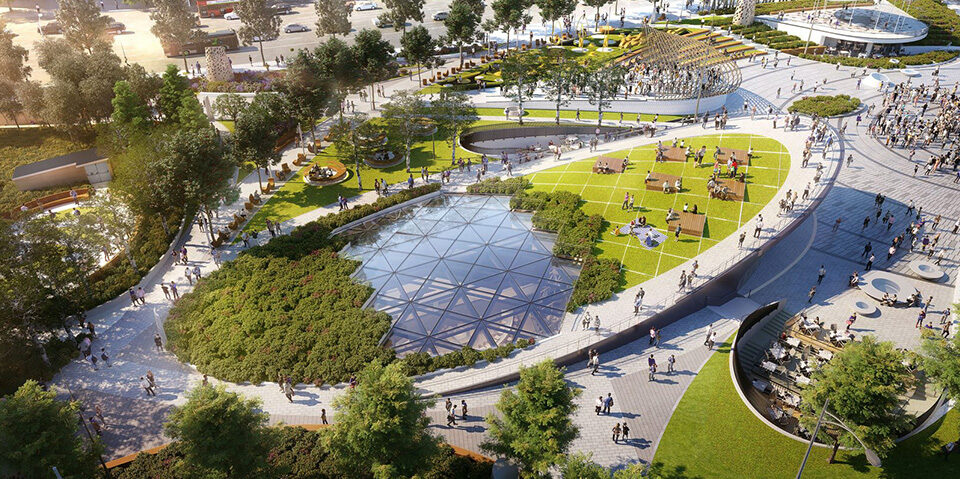 ANT YAPI IS BUILDING A MALL IN MOSCOW'S HISTORIC REGION

8 December 2021
Ant Yapı, one of the top 100 international contractors, is building a mall in Paveletskaya Square, one of the historical centers in Moscow, the capital of Russia.
Ant Yapı, one of the leading contracting companies that has accomplished many important projects in Turkey and abroad, is implementing a new project in Paveletskaya Square, one of the historical centers in Moscow, the capital of Russia. The project is designed as an underground mall and will connect Paveletskaya Train Station, Paveletskaya metro station and the passenger stops on the Sodovoe Koltso route to each other.
The mall, which is being built on a total area of 73,000 square meters considers both the historical texture and climatic conditions of the region, it will have gastronomic cuisines from around the world, as well as 190 stores. As such Paveletskaya Plaza aims to present a cultural mosaic to its visitors.
One of the most important features of the Paveletskaya Plaza, designed as an underground shopping mall, is the natural lighting of the indoor and outdoor spaces with light galleries. This design means the underground stores receive natural light directly, allowing visitors to see the sky. In addition to the city park area, venues designated for city events, and festivals and concerts, there will be approximately one fourth of the total area reserved for restaurants, cafes, and fast-food brands. The square, where Paveletskaya Plaza is located, has been decorated with a musical fountain, resting area, lighted swings, and benches, while approximately 350 coniferous and deciduous trees were planted in addition to 18,000 bushes and flowers. It is aimed that Paveletskaya Plaza will begin hosting its guests at the beginning of 2022.
We will continue to achieve great works in Russia
Underlining Paveletskaya Plaza as the biggest underground mall in Moscow, Ant Yapı Chair Mehmet Okay says: "We will launch Paveletskaya Plaza, which we started to build in August 2019 at a cost of 110 million Euros, in the first months of 2022, as we promised. The mall, connecting the metro and other transportation networks, is located on the transit route of 140,000 train passengers daily, not including the vehicle traffic. We believe that Paveletskaya Plaza, which provides comfortable shopping opportunities for its visitors with its 300-vehicle capacity indoor car park, will increase the vitality of the region."
Emphasizing that Russia is an important market for Ant Yapı Mehmet Okay says: "28 years ago, our first overseas operation started with Russia. At the point we have reached today, we have achieved many first and important projects in various cities in Russia and in particular in Moscow. OKO Towers, the highest building in Europe, Sochi Olympic Village and Domodedovo Airport, Tolmachevo Airport, IQ Quarter Moskva City Terminal, Bvlgari Hotel, Capital Towers, and Mirny Airport are only some of them. As Ant Yapı, we have carried out qualified works both at home and abroad since the foundation. To date, we have implemented a total of 10 million square meters of projects in the countries where we operate. In the coming period, we will continue to achieve great works in Russia and in other countries where we operate."
About Ant Yapı
ANT YAPI was founded in 1991 to carry out construction projects with its professional management system and its trustworthy structure, without compromising quality. With its operations that started in the 90's and continued after its restructuring in the 2000's, ANT YAPI has successfully implemented projects such as various residences, hotels, schools, cultural centers, business centers, shopping centers, entertainment centers both in Turkey and abroad. With the positive thinking behind the successful realization of projects and commitments, its professional team, and the importance it attaches to the pursuit of modern technology and innovations, ANT YAPI has accomplished more than 10 million square meters of projects since its foundation.
ANT YAPI continues to serve by producing the most suitable solutions in line with the needs of its friends of ANT YAPI, whom it considers as business partners, with its high IQ contracting works abroad and with high IQ + EQ investment projects in the country.
© 2023 All Rights Reserved